Ina Fried
The dissolution of net neutrality regulations and the AT&T/Time Warner decision could shape the internet for years to come.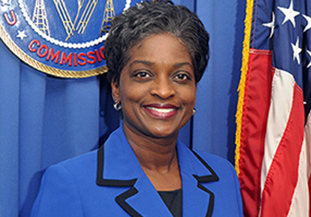 Commissioner Mignon Clyburn of the Federal Communications Commission says every route should be pursued to restore network neutrality rules, from the courts to Congress.
When it comes to the four major carriers, everyone says they are going to be first with 5G. It's always a race to be first with a new generation of technology (and to claim being first, which isn't always the same thing.) The stakes are extra high
While the tech industry as a whole started speaking out against President Donald Trump's travel ban over the weekend, one segment has been noticeably silent: The big telecommunication firms.
As president-elect, Donald Trump has continued to use his Android device as his primary means for both keeping in touch with associates and expressing his displeasure with news outlets and "Saturday Night Live." But experts say that, as president,
Apple is indeed investing some of its cash in a SoftBank fund that has won praise from President-elect Donald Trump for promising to put $50 billion into US tech companies.
After failing to strike a new deal with Apple, Nokia is suing the iPhone maker for patent infringement in both Germany and the US.
Another big security flaw in Android highlights just how messed up the Google ecosystem still is when it comes to security. This one, known as Quadrooter, was disclosed in recent days by security software maker Check Point.
Verizon is announcing that it is nearly ready to offer nationwide calling over its LTE network, but the reality is this is just the start of a long process.
T-Mobile clarified that it has no plans to broadly throttle its unlimited data customers, but is reaching out to a small number of customers using the service in violation of company policies.